I cannot believe that Acorn is 6 weeks old today.
Here is a pic I plan to send to friends and family (email send) for the holidays, but I post it here, early....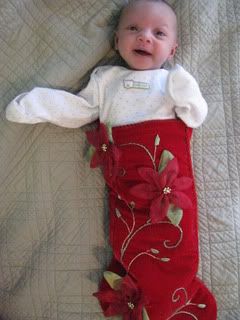 By the way, the ticker is weird, and has the wrong count, I am not sure why.
She is smiling and making lovely cooing noises to go along with her goat grunts and elephant snorts. She is a noisy baby, except in deep sleep.
I am still struggling with b.re.ast issues, the yeast is slowly leaving, and my n.ips are again cracked. I am sincerely tired of it, it has gotten to the point that I can't remember not being in pain. Awful. But, Acorn is growing well, she gained 6 ounces in 5 days!