I am walking differently, I noticed it while we were on vacation, especially with the hundreds of stairs I climbed each day. But, I didn't know if anyone else could tell.
On Saturday, we were walking to the pool with our neighbors and my neighbor said, "Hey, you have the waddle!" and I said, dismayedly, "I know." I always thought that the waddle started because of a large belly, but now I've learned it is also about the pelvis loosening and adjusting.
Regardless, one shouldn't say "you have the waddle!" to a pregnant woman!
Here are some belly shots:
6 weeks: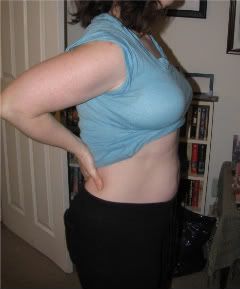 19 weeks:
We have our 20 week ultrasound on Monday, I am so excited! We're planning to not find out the gender. We decided that A: it will be a fun surprise and B: we've known so much, incl. what our baby looked like as an embryo, so it will be nice to just not know.
also, I uploaded the monarch on the lavender, that I wrote about a few days ago... on the post below.